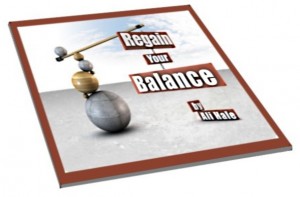 If you're on the Aliventures email newsletter list, you'll know about this already.

For the rest of you, I'm delighted to unveil a new ebook, Regain Your Balance, the first product I've made specifically for Aliventures readers. The series on Balance has clearly struck a chord, so I hope this is just what you're looking for!
You can find out plenty more about Regain Your Balance, but if you're after the quick summary, it's a 78 page ebook that comes in screen-friendly and print-friendly versions, along with accompanying worksheets, and it costs $19. I'll also be doing a free follow-up Q&A – if you want to get your questions answered in that, you'll need to buy the ebook and email me your question(s) before July 6th.
I'd suggest you download the free sneak-peak (intro and first chapter, pdf) to get a taster, and pop on over to the Regain Your Balance page to full details.
Hope you enjoy reading this as much as I enjoyed writing it!