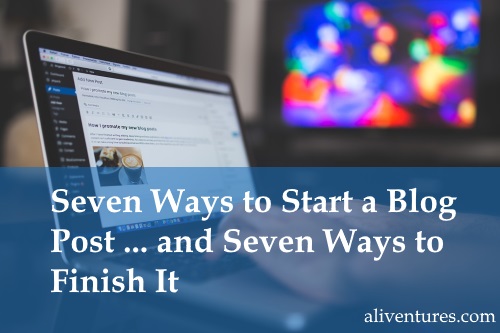 Where do you get typically get stuck when you're writing a blog post?
For a lot of bloggers, the first few lines of the post – and the last few – are really tough. You might have a perfectly good plan for what's going to come later … but you just don't know how to begin.
One solution is to simply type anything to get you going. While that's fine when you're drafting, at some point, you're going to need to come back and revise.
Another is to skip the introduction and jump straight in with your first key point. Again, that's a great way to get moving … but it doesn't really solve the problem. You're still going to have to write that introduction at some point.
Beginnings and endings matter, and it's important to get them right.
The first few lines of your post draw the reader in and, ideally, set the tone for what's to come.
The final few lines are a crucial opportunity to ensure your post makes a difference.
Here, I'll go through seven different ways to start a blog post, and seven ways to finish it – with examples from a bunch of blogs.
Note: You can use more than one "start" or "finish" technique in a single post (as you read through, you'll probably spot that some of the examples do this). To begin with, though, you might want to focus on just one at a time.