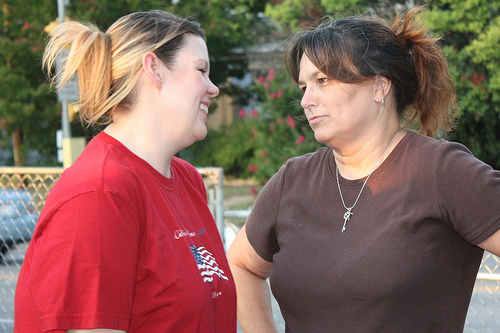 Image from Flickr by dadblunders.
There are several perfectly good ways to structure a story in terms of viewpoint, but (probably) the more common ones are:
A single first-person narrator, as in Florence and Giles or 600 Hours of Edward.
A main third-person narrator plus occasional omniscient narration, as in Harry Potter.
Several third-person narrators, as in The Song of Ice and Fire series, some getting considerably more "screen time" than others.
In this post, I want to think about stories where the narrative is split pretty much equally between two characters.
I've come across more books like this in recent years and wonder if it's becoming a more popular viewpoint choice. (I'd be interested to hear your thoughts on this in the comments!)
Here are some examples of books that are structured in this way:
Gentlemen & Players by Joanne Harris (Amazon.com / Amazon.co.uk) – the narrative is divided between two first-person narrators; the identity of one of these is concealed, though hinted at.
The Chaos Walking trilogy by Patrick Ness (Amazon.com / Amazon.co.uk) – a particularly interesting one as the first book has one first-person narrator, the second book has two, and the third book has three.
The Help by Kathryn Stockett (Amazon.com / Amazon.co.uk) – with three first-person narrators, Aibileen, Minny, and Skeeter, all with a different voice.
Gone Girl by Gillian Flynn (Amazon.com / Amazon.co.uk) – with two first-person narrators, their narratives combining to give two sides of the story.
Those are all first person examples. Of course there are plenty of third-person narratives split between multiple viewpoint characters, but they tend to be more likely to give some viewpoints considerably more screentime than others, and/or segue into an omniscient perspective.
A good third-person example that works in a similar way to the first person ones above is my friend Nick Bryan's Hobson & Choi series, where the third-person limited viewpoint switches back and forth between the two titular characters.