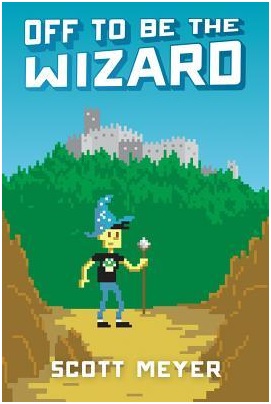 It's Friday 20th June, and I'm going to the Winchester Writers' Conference. I'm due to head off for a train in less than an hour and I've not finished packing. I want something to read on my Kindle Fire.
I don't have much time, so I don't browse book blogs or ask on Twitter for recommendations. I head straight to Amazon.
Do a couple of my favourite authors have new books out? One does, but I'm waiting for the price to drop. The other's book isn't out yet.
I'll try something new, and cheap. I head to the Kindle Daily Deals and see a bunch of different books.
I skip past the ones that look like romance or thrillers, and pause at Off to Be the Wizard (Amazon.com / Amazon.co.uk). The title makes me think "children's book" and the design, at teeny-tiny thumbnail size, isn't hugely clear – it also looks childish.
But I pause long enough to realise that the cover shows old-school computer game style graphics (an impression backed up by the series title, "Magic 2.0″).
That might be my kind of thing.
{ 6 comments }