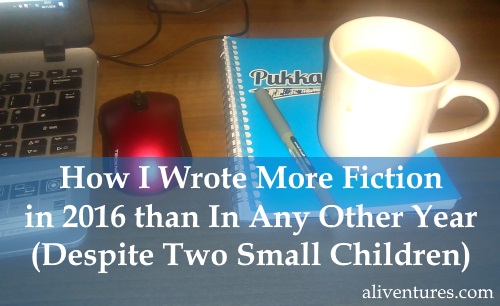 I finished two full drafts of my novel, the third Lycopolis book, by mid-November 2016 … the most fiction I've ever written in a year.
This is despite 2016 being a pretty hectic year, with two small children, limited work hours, and fiction-writing being squeezed into a 30 minute slot most days.
During 2016, I wrote more fiction than I did:
When I was in school, with hours to spare every day … and plenty of time at the weekends.
When I was a uni student with 28 weeks vacation per year (yes, 28!) – I did work some of that time, but I had oodles of hours where I could've been writing and didn't.
When I was working full-time, and had no dependents. (Weekdays were busy – but I could've written much more at weekends than I did.)
When I was taking a part-time degree in creative writing. I wrote a fair amount of fiction at this point – more rapidly than in the past – but still not as much as a I wrote during 2016.
Continue reading »