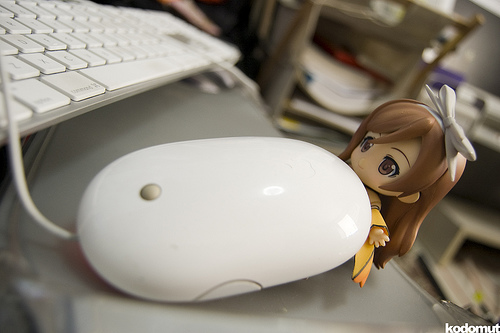 Image from Flickr by kodomut
This is the first post in a three-part series on guest posting. The full series is:
---
If I had to point to the one technique that's made the most difference to my writing career, that technique would be guest posting.
In case you've not come across the term "guest posting" before, it simply means writing a blog post for someone else's blog.
(Generally, you won't get paid for guest posts.)
Here are a couple of examples of guest posts I've written recently:
A 5-Step Plan to Improve Every Blog Post You Write – on Copyblogger
How Often Should You Blog? (Hint: The Answer Might Surprise You…) – on ProBlogger
You don't need to have a blog of your own to guest post – though most guest posters do. And you don't need to already have a relationship with the owner/editor of your target host blog. All you need is a strong idea, and the ability to do justice to that idea in writing.
So why would you want to do it?
Seven Key Benefits of Guest Posting
Guest posting has huge benefits for writers – whatever stage you're at with your writing career. You can:
#1: Get your work read by a big audience. When I started out guest posting, this was the biggest attraction for me: instead of having no feedback at all on my posts, I suddenly had comments and emails.
#2: Learn to write for different audiences. Every blog has its own unique style. Even blogs with quite similar topics will cater to slightly different audiences (take a look at Men with Pens vs Write to Done, for instance; Men with Pens is more focused on writing as part of a business).
#3: Build up your writing portfolio. One of the biggest struggles that new writers have is a lack of publication experience. Landing guest posts on a few large, well-known blogs will give you some great clips for your portfolio.
#4: Establish a relationship with the blog owner / editor. When I first started Aliventures, I was freelancing for a couple of blogs that I originally wrote for as a guest poster. I soon added two more. If you're looking for paid blogging work, guest posting can be a great way to get your foot in the door.
#5: Promote your blog or book. At the end of your guest post, you get to put a "bio" – a couple of sentences about you and your blog, book, newsletter list, or anything else you want to promote. This is a great way to get traffic to your blog, or to let people know about your book.
#6: Get your name recognised. If you guest post on several big blogs in your field, their readers will start to recognise your name. So will influential people – like those who put together conference line-ups.
#7: Improve your SEO (search engine optimisation). By getting a link back to your blog from a major site, you'll improve your blog's ranking in Google and other search engines. Since you write your bio yourself, you can choose the exact text you want, too.
There are plenty of less tangible benefits, too. It can be a real buzz to get your guest post accepted by a major blog – especially if you've been a fan of that blog for a long time. And even if you get rejected, the process of submitting posts is great practice for when you want to submit a magazine article or book – it can get you used to the fact that rejection is part of the writing game.
Who's Guest Posting For?
You might think that guest posting is just for bloggers … but that's not true. All sorts of different writers choose to guest post. That includes:
Non-fiction writers with a new book out. (I already have some guest-posting opportunities lined up to promote my book Publishing eBooks For Dummies, which will be out before the end of the month.)
Fiction writers, particularly  indie authors who've published their own book. These authors often go on "virtual book tours" or "blog tours" where they guest-post on a number of different sites.
New writers who want to get some experience, or who simply have a message or idea that they want to share with a wide audience.
Whatever sort of writing you do, and whatever stage you're at with your writing, guest posting can help you promote yourself and your work.
Exercise:
This week, look out for guest posts on the blogs that you read. Make a list of any blogs that seem to use guest posters – and that you might like to write for yourself.
In the next part of this series, we'll be looking at the "how" of guest posting – how to decide which blog to write for, and how to craft a post that's very likely to be accepted.
Make sure you're getting the RSS feed, or that you're receiving new posts by email (enter your email address below) so that you don't miss the next post!