[guestpost]I wrote this review several years ago; Alli's ebook is no longer available on the virtual shelves.
If you're a freelancer looking to make money, you might want to check out my post Nine Different Ways Writers Can Make Money By Writing.[/guestpost]
I met Alli Boyer at BlogWorld (and got mistaken for her a few times!) I'm a wee bit envious of her gig with BlogWorld, so when she offered me the chance to get the inside scoop on her secrets, I jumped at it.
I knew this was Alli's first product , so I opened it up with that in mind. But I was hugely impressed by the quality here: Out of Thin Air is engagingly written, nicely designed, and packed with very specific advice. It's the sort of ebook I'd expect from someone with a string of products behind them.
Here's what's inside…
Overview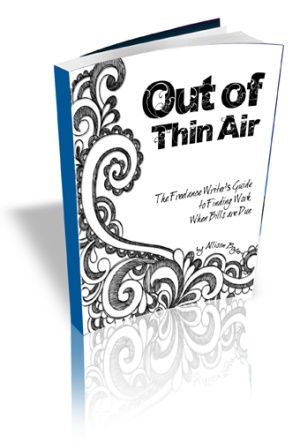 Out of Thin Air: The Freelance Writer's Guide to Finding Work When Bills Are Due is a 47-page ebook from freelancer Alli Boyer.
It's aimed at helping you through a cash-flow crisis, and Alli emphasises that the tips here aren't ones which you can use sustainably over the long-term.
The price
$21 – good value for such focused, instantly-implementable advice.
What's included
Out of Thin Air has four major sections to help you get some cash in your bank account fast:
Making Money Quickly with Current Clients
Make Money Quickly with New Clients
Making Money Quickly with Your Blog
Making Money Quickly with the Bidding Game
Along the way, Alli includes "Notes in the Margin" sections to highlight key points. She also has several "Confessional" stories where she talks about what she's done wrong in the past.
Good stuff
There's a lot of good things to say about Out of Thin Air; this has to be one of my favourite ebooks from the past few months (and I read a lot!)
Honest and Open
I was especially impressed by Alli's honesty. We've all made mistakes in the past – including tough choices which we regret. Freelancing can throw up some thorny ethical dilemmas, especially when money is tight – and Alli is very open about how some of her decisions left her with regrets.
Packed with Ideas
There's an absolute wealth of ideas here. Several of Alli's techniques are ones which I've used myself, but she also gave me a lot to think about. Although her tips are designed for short-term cash flow, there's still a lot to learn here about good freelancing practice in general.
I've come away with plenty of thoughts about future promotions and some ideas about new markets to tap.
Fun to Read
Perhaps this should go without saying, given that Alli's a freelance writer, but Out of Thin Air is a really good read. It's informative without being at all dry, and feels like having a good chat with a knowledgeable friend.
Bad stuff
I don't have anything negative to say about Out of Thin Air: I was that impressed by it. The one downside I can see is that freelancers who're looking to make some money quickly don't tend to have much to spend.
Having said that, $21 is a small investment (freelance writers can easily make twice that from one blog post) – so if this ebook resulted in just a couple of extra jobs for you, it'd be well worth your money.
Verdict
If you're a freelance writer (or even planning on freelancing) go and buy Out of Thin Air now – don't wait until you hit a tough spell. There's tons to learn here, whatever stage you're at, and you'll know you've got a back-up for any trickier times.
(NB: I'm a proud affiliate for Out of Thin Air. You can read my review policy here.)