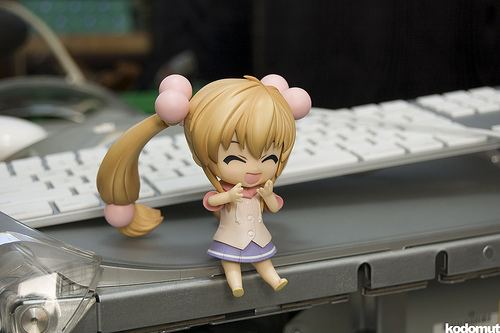 Image from Flickr by kodomut
This is the third post in a three-part series on guest posting. The full series is:
---
One big concern that would-be guest posters have is how to pitch their post – what they should say in their first email to the blog owner / editor.
When you know you have to grab the attention of a busy blogger – who may have dozens more guest post submission to evaluate – it's easy to feel stuck. You're convinced that every word needs to count, so you spend hours trying to perfect them.
Relax.
You're not pitching a book here – or even a magazine article. You don't need to pour hours into crafting the perfect email. If you follow a few simple guidelines, you can be confident that your post will at least be considered.
What Not to Do
If you saw some of the incredibly poor pitches that bloggers get, you'd realise that it's not hard to stand out as a good writer.
Here's one I received a couple of weeks ago. (I'll keep the person in question anonymous.)
Hi, I visited your website. I must say you people are doing great work of creating awareness about the health. I also want to be apart of this work. So want to write an article for your site. I am a professional freelance writer. I assure you that article will as per your guidelines. I am giving you an example of my writing. Below link form there you can decide:

1) [link to a post about ovarian cancer]

2) [link to a post about skin cancer]

Please see that link and tell me your response. Hope to take positive response.

Thanks & Regards
Here's what's wrong with the pitch:
There's no attempt to address me by name, or even mention the name of my website – giving the impression this is a form email sent to lots of blogs.
It's not on-topic enough. This pitch was for a blog about diet/fitness that I stopped updating over two years ago. I no longer publish any new material there anyway, but general health issues (especially with the links to post about cancer) wouldn't ever have fallen under the blog's scope.
The pitch is riddled with mistakes and poor English, even though the guest poster claims to be "a professional freelance writer". I can forgive a few slips, especially when English isn't someone's native language (which I suspect is the case here) – but typos like "form" for "from" and "apart" for "a part" just look lazy.
There's no actual pitch! All the guest poster says is that they want to write an article for me. They don't suggest possible titles or topics. Most bloggers won't want to go back and forth by email just to get some idea of what you actually want to write. They want to see a clear, thought out idea.
(If you spot something else going wrong in this pitch that you want to ask about or mention, please do leave a comment at the end of the post.)
So what does this guest poster get right?
Not much! But:
They're polite (apart from not bothering to include my name). They say please and thanks. They're not overbearing, assuming that I will or must take a guest post from them – they're hoping for a "positive response."
They include examples of their writing. If you're not sending a full post up-front, this is (in my opinion) a must: it lets bloggers see for themselves what you can do.
So, I'm hoping you can see that you don't have to be a genius at pitching guest posts in order to stand out. Even so, it doesn't hurt to have a few basic tips in mind…
Five Simple Tips for Crafting a Great Pitch
Include the blogger's name, and get it right (double-check the spelling). If you're pitching to a big blog, check who you should be sending the guest post too – it's not always the blog owner. For instance, Georgina Laidlaw at ProBlogger handles guest post submissions there.
Keep your email short and concise. It's fine to include a line or two about your own experience – e.g. I'm a freelance writer and run my own blog at [link] – but blog owners won't want long paragraphs explaining your personal background.
Pitch your post clearly. If you've already written it, I think it's enough to just say "I've attached a guest post submission, TITLE." (Obviously, try to make the title as compelling as possible.) If you're writing for a blog that wants you to pitch before producing the post, include the proposed title plus a few bullet points outlining what you plan to cover.
Include a couple of links to great posts you've already written – these can be on your own blog or other blogs. (If you're attaching the post, you don't need to do this.) Once you've built up a guest posting track record, you can mention major sites in your niche that you've written for.
Proof-read your email. You want to create a good first impression – and typos, missing words, or grammatical mistakes all need to be weeded out. If you know that this is a weak area for you, ask a friend to read through your draft email.
Exercise:
If there's a pitch you're working on right now (or if you just want to have a go at writing one for an imaginary guest post) then post your draft email in the comments – I'll be very happy to provide some feedback.
Good luck with your guest posting!