Your party bag contains all these goodies:
Ten Powerful Ways to Make Your Blog Posts Stronger (23 page mini-ebook)
Ten Easy Ways to Attract Readers to Your Blog … And Keep Them There (23 page mini-ebook)
How to Format Your Blog Posts in Blogger and WordPress (45 page guide packed with screenshots, only previously available to Blog On course members)
Part One of The Blogger's Guide to Irresistible Ebooks (exclusive 26 page sample – includes the introduction and all of the first part on "Planning Your Ebook")
Join the Aliventures Newsletter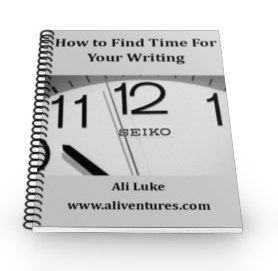 The fun doesn't end here!
If you'd like to get weekly writing tips, free mini-ebooks and a discount on every product I create, just pop your email address in the box above.
Just pop your email address in the box at the top of this page. You'll get a copy of my mini-ebook How to Find Time For Your Writing straight to your inbox.