Five Easy Ways to Write in a More Conversational Style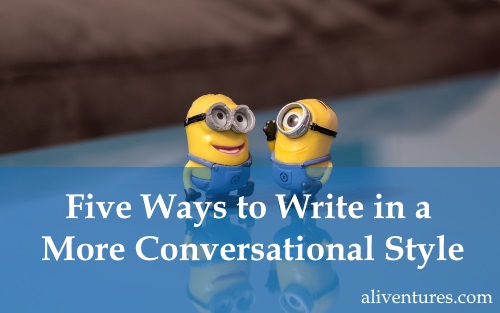 If you're a blogger, you've probably been told at some point that you should "write in a conversational style."
It's common advice – for some book authors, not just for bloggers. When I wrote Publishing E-Books for Dummies, Wiley wanted a conversational style too.
Real life conversations, though, have a lot of features that don't seem to support good writing. In a conversation with friends, you might:
Jump around between different topics
Take a while to get to the point
Use in-jokes (where an outsider wouldn't get the joke)
Use ungrammatical constructions – e.g. "Him and me went to the shops…" rather than "He and I went to the shops…"
A disjointed, rambling blog post full of references that no-one will understand and written with non-standard grammar isn't going to be a great post.
So what do bloggers, editors and publishers mean when they ask for a "conversational style"?
They're looking for writing that has the flavour of a real conversation without attempting to replicate it. In particular, they're looking for writing that's not too formal, that addresses the reader directly, that shows a light sense of humour, and that's written in a way that's easy to engage with.
I'm going to take you through some key ways to write in a conversational style … with concrete examples of how you can achieve each one.
#1: Staying Fairly Informal
Conversational writing is fairly informal writing. I like to think of it as if I'm writing an email to a casual friend: I'd make it grammatical and coherent, but I wouldn't be stuffy!
Two easy ways to make your writing more informal are to:
Use contractions (e.g. "don't" for "do not", "I'm" for "I am")
Use regular, everyday language (e.g. "saw" rather than "observed")
#2: Talking Directly to the Reader
Conversations require more than one person … and this is something you can use in your blog posts (or articles, or book chapters). Write as if you're talking directly to your reader: this comes across as friendly and immediate.
For instance, a few paragraphs ago, I didn't write:
"This post will discuss some key ways to write in a conversational style … with concrete examples of how to achieve each one."
Instead, I wrote:
"I'm going to take you  through some key ways to write in a conversational style … with concrete examples of how you can achieve each one."
#3: Bringing in Personal Experience
While this isn't something you have to do to achieve a conversational style, I find it often helps to bring in some of your personal experience with the topic at hand.
That could be something as simple as a single sentence – e.g. in the introduction, I explained, "When I wrote Publishing E-Books for Dummies, Wiley wanted this type of style too."
Just like using "you", using the word "I" helps to draw a closer connection between you and the reader.
#4: Having a Sense of Humour
I'm not a naturally funny person and I sometimes have to make an effort with this one! But a little bit of humour can make your writing more engaging and accessible. You don't have to crack jokes – you might gently poke fun at yourself, for instance.
In my post Why You Should Stick to One Name for Each Character in Your Novel, I wrote:
I'm "Mummy" to my kids, occasionally "Mum" (they're not convinced that I even have another name).
While it's not exactly laugh-out-loud funny, I'd hope that line at least raises a wry smile from fellow parents.
#5: Being Open to Responses
In a conversation, you (hopefully!) don't do all the talking.
One simple way to make your posts more conversational is to ask for responses: to invite comments where readers can tell you what they think about a particular topic.
Like most bloggers, I tend to do this with an explicit invitation at the end of the post (and you'll see one in a moment!) – but sometimes it can be helpful to pave the way for comments earlier on. This could mean writing something in your introduction like, "I'm sure I don't have all the answers – so as you read through, if you feel that I've missed something out, do share it in the comments."
So, over to you … what would you consider to be hallmarks of "conversational" writing? Do you deliberately try to make your own writing conversational – and if so, how do you do that? I'd love to hear your thoughts in the comments below.
About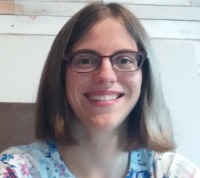 I'm Ali Luke, and I live in Leeds in the UK with my husband and two children.
Aliventures is where I help you master the art, craft and business of writing.
My Novels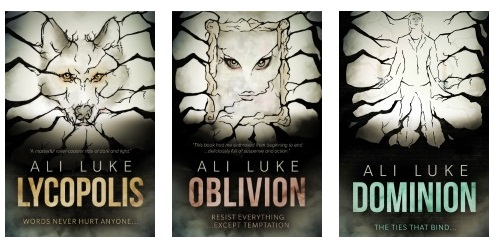 My contemporary fantasy trilogy is available from Amazon. The books follow on from one another, so read Lycopolis first.
You can buy them all from Amazon, or read them FREE in Kindle Unlimited.