[guestpost]Hello!
You're reading one of the oldest posts on Alivenutures (you probably got here through a search engine).
These days, my blog is focused on the art, craft and business of writing. If you're not a writer and you're just looking for content on personal development, it may not be the place for you. (Sorry!)
If you are a writer or a would-be writer, a huge welcome to Aliventures! A great place to start is with my free mini-ebook Time to Write – you can find out more about that and a bunch of other handy resources here.[/guestpost]
This post is part of a blogosphere-wide campaign: see The Girl Effect Blogging Campaign for lots more!
I want to share this photo with you.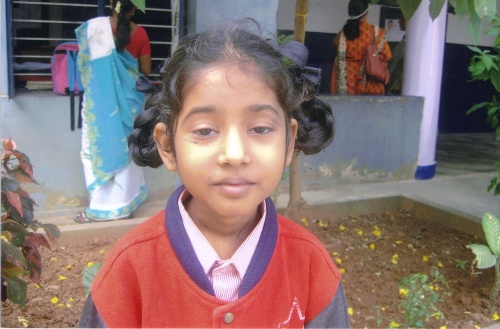 This is Ramya, a thirteen year old girl from Bangalore. She has special needs and health problems, and she attends the special needs section of Divya Shanthi school. My husband Paul and I pay her school fees and uniform costs. (Divya Shanthi are a small charity which my church supports – we visited them, with my family, back in July.)
Why? Because we were deeply moved by the poverty and need which we saw – and by the courage and hard work of girls and boys coming from such desperate backgrounds.
Because it costs about £7 ($10) per month to put Ramya through high school.
Because, when we visited Bangalore, we realised just how lucky and how rich we really are.
I'm thinking about Ramya as I write this, not just because a photo and Christmas card arrived from her this morning, but because I've just been watching the videos on The Girl Effect website.
They made me cry.
Can you take just three minutes to watch this video, right now?
As we drove around Bangalore with Divya Shanthi's staff, we saw shocking levels of poverty. Women and small girls were begging in the roads – coming up to cars at traffic lights and knocking on the windows to beg for money.
We heard about families deserted by alcoholic fathers, with mothers struggling to support their children with limited skills and education. Here's just one heart-breaking story:
Ayshu's father is a sweeper in a railway station and is an alcoholic –  He deserted the family due to family quarrel.  Mother is a housewife.  Ayshu [aged 2] has her brother who is studying in Nursery class and both the children are staying our Boarding Home since mother finds it difficult to care for the children.
But it doesn't have to be that way.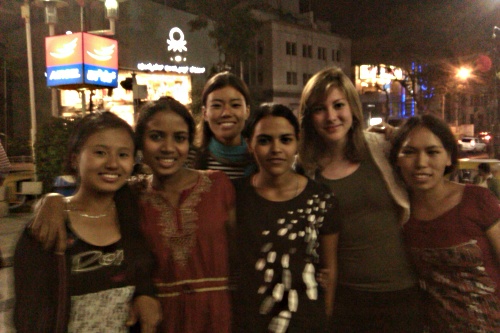 The girl in the green t-shirt is my sister. The others are all girls who grew up together in Divya Shanthi's school and boarding home.
They're studying college courses. They have hopes and ambitions for the future. They're independent, fun, confident young women.
As well as running a school, Divya Shanthi have a number of programs working in surrounding communities. One of these is the SANGAMs – women's self-help groups, where a group of women can get together and borrow money to start a business.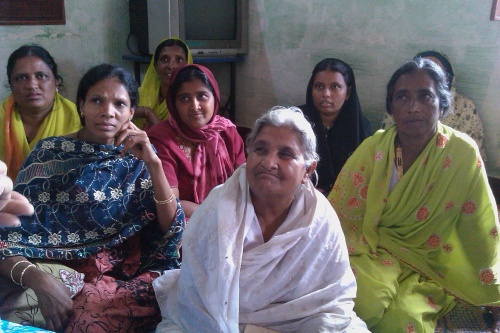 These businesses thrive. They've got a far, far lower failure rate than traditional business. The loans are almost always paid back (making them a really good investment for those able to lend larger sums of money).
How You Can Help
One of the best things you can do is to spread the message.
Go and read more on The Girl Effect's website.
Tweet about The Girl Effect (and follow them here), or join their Facebook page. Share the video with friends and family.
Write your own post about The Girl Effect. You can link it with dozens of other bloggers' posts here.
You can also make a direct donation. If you can only give a few pounds or dollars, know that it's not too little. It might be the price of a couple of coffees to you – it's a month's school fees for a girl in the developing world.
Girls and women can do amazing things. They can change the future.
Will you help give them the chance?