Back in January, I regaled you with some of my goals for this year. I included this ambitious little template of my novel plans, explaining that I wanted to get Draft 2 done before going to SXSW: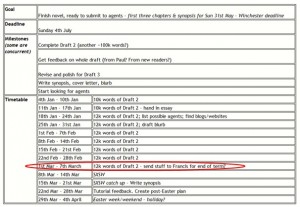 Well, I'm happy to report that the bit circled there in red happened. As you may have noticed if you follow me on Twitter, I've finished Draft 2 of the novel (clocking in at 176,000 words). With two whole days to spare. Success! I've even made copies on Lulu for myself and a couple of friends who've offered to give feedback on the whole thing. It looks like this: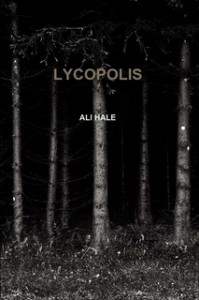 (I should've made my name bigger, damnit! Oh well…)
Happy ending? Sure. If you don't count the blog posts unwritten, the friends neglected, the wedding unplanned…
Okay, I'll be upbeat. Yeah, it's a happy ending. I did succeed in something which I really wanted to do, and managed to get over my usual hang-ups about its lack of meaning to others. (Frankly, the world would be going on quite happily today whether or not I'd scrawled THE END on draft two yesterday.)
So am I a success? Hell, yeah.

… But, seriously, that's not the way to look at it. I succeeded at meeting a target I set for myself. It had a lot of meaning to me. I could have failed, but even if I had, it wouldn't really have mattered: I'd probably still have got close to my goal.
Success (Should Be) Concrete
The biggest problem I have with the idea of "success" is that it can be pretty vague – particularly when we talk about being a success.
Am I a success because I said so, above? Am I a success if someone else says so?
Am I a successful writer if I finish a short story? A novel? Get published? Get on the New York Times bestselling list? Make a million pounds?
You see what I'm getting at here. Success doesn't really mean anything unless it's concrete. If you're striving for some nebulous idea of success as perpetuated by the media and by society, you'll never feel like you've made it, because you don't really know what you're after.
I can tell you confidently that I've succeeded in my writing goal because I met a concrete target – finishing my second draft. I also met it by a self-imposed deadline, but that's not an essential part of success.
How can you measure whether you've succeeded? What are you actually aiming at?
Success Is Subjective
There are lots of yardsticks that the world uses to measure success. How about:
Your job title and importance in the workplace
Your family – a "successful marriage", being a "successful parent"
How much you earn, or what your net worth is
The sort of house you live in and the lifestyle you have
Whether you've achieved particular career milestones ("successful footballer")
Someone else's measure of success isn't necessarily right for you. Perhaps you couldn't care less about climbing a corporate ladder: success, for you, means having the freedom to travel and to paint. Or maybe you can't think of anything more stultifying than settling down in one place, owning your own house and having 2.4 kids.
You get to decide what success means. It's probably not a certain amount of money in the bank, or a widescreen TV. It doesn't need to be a big goal, or some external measure of success based on the world's reaction to you. It might be something that's quite simple like:
I'm a successful blogger when I write a good post every week
I'm a successful parent when I'm patient even when I'm tired
I'm a successful artist when I draw something, anything, every day
Think bigger if you want. I'll be a successful novelist (in my own eyes) not when I'm published, but when I have fan mail … that's how I'll know my work has touched someone.
Failure Is Important Too
Back in January, I had some plans for this site – like, you know, regular posts. It didn't totally happen. I managed one key success – launching an ebook that I was very pleased with (and which has had some lovely feedback), The Blogger's Guide to Effective Writing. But I didn't get everything done.
But that's okay. Failing isn't losing. It's not Game Over. I got part-way with my non-novel goals, and I also learnt some good things about my own process: I just can't keep up the momentum with two big writing projects at once.
A lot has already been said in the personal development sphere about failure, and about how it's good to fail, and I'm not going to rehash a lot of it here. I'm just going to suggest that we shouldn't see "success" and "failure" as two binary opposites, but as points on a spectrum. If you're nearer to the "success" end than the "failure" end, that's good enough. Heck, if you've managed to bump yourself any of the way towards success, give yourself a pat on the back for it.
When we fail, that's useful feedback. We can figure out what went wrong: in my case, it's usually over-ambitious planning. We can fix it: I used Charlie Gilkey's Premium Planners to help me get my head around the rest of this year.
If you've got a few minutes, try this:
Pick one of the key areas of your life (as defined by you): your work? Your family? An activity or hobby?
Ask yourself what "success" will look like in that area. How will you know when you've succeeded?
Feel free to share your thoughts in the comments!