In a few quiet days between visiting various sets of relatives, I took some time to look at what I'd done in 2009, and what directions I want to take in 2010. At the start of each year, I write down my annual goals in a notebook: this is what I wrote for 2009:
Move away from website work & just do writing
Finish the first draft of novel
By the end of the year, earn $500/month from passive income streams
Have three short stories published
Build up savings account – target of £5,000 extra by the end of the year
It's always interesting (even wryly amusing) to look back at how differently my year goes compared with my initial hopes. As I go on through the year, and as I start to see new possibilities to take, plans fall by the wayside. My aim to get three short stories published, for instance, didn't grab me: but the first draft of my novel did, and was completed well ahead of schedule, by the end of September.
Some of my big projects in 2009 – like this blog – didn't appear in the plan at all. At the start of 2009, I hadn't planned on carving out my own space in the (crowded) personal development segment of the blogosphere.
And on one goal – to save an additional £5000 – didn't happen at all. I took money out of my savings, for MA fees and taxes. I'm not up to $500/month of passive income consistently, but I did hit that target some months (including December).
When I looked at what I wanted to accomplish this year, I had to bear in mind that 2010 is going to be a year of big changes. We plan on moving out of London in July, I finish my MA this summer, and we're getting married in September. So I'm going to maintain my focus this year on two core projects: my novel, and this blog.
Here's how.
How I Plan (With Examples)
Last week, I wrote out a high-level week by week plan for the next three months (until Easter, where we're planning a week's break and some family events).
I'm keen to get my novel finished by July, in order to take advantage of the invaluable feedback from tutors and fellow students on my course. I also have various short and long term plans for Aliventures (including a couple of ebooks) which you'll be hearing much more about in due course.
To give you an idea of how I approached the planning, here's the table I drew up for my novel. As well as including the work on the novel itself, it encompasses some non-novel events (an essay, SXSW and a synopsis) and meta-work (creating the next part of the plan – which will be a chance to assess how well I kept up to the first part)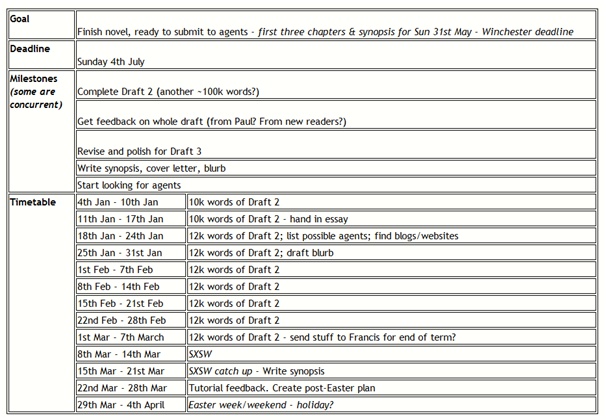 Do copy and use this template for yourself, if it's handy; I found it a useful way to get my head around what needs to be done!
None of this is set in stone, and I may well shift things around to revise the first section of the novel during February (to meet a competition deadline). But setting out a plan like this made me realise that I do need to knuckle down and create serious time for my novel if I'm going to meet my targets.
Coupled with my plans for Aliventures (in a very similar table), I've got a lot of work to do on these projects over the next three months. I also have smaller projects and tasks: my regular freelancing, some church tasks, a book I'm working on with a friend, a stack of books I want to read, and a wedding to plan…
Avoiding Meltdown
I'm all too aware that I have a tendency to try to do too much. I get very enthused by new projects and by the wealth of possibilities – and the actual work required can come as a bit of a shock! Over the past few years, I've learnt that I need to take time to rest and recharge if I'm going to work effectively. Plus, as Charlie Gilkey and others have gently reminded me in recent months, my happiness counts.
So, coupled with the big two projects of Novel and Blog, and half-a-dozen small-to-medium projects which I'm engaged on, I've got a handful of goals that focus on building and maintaining habits to support me along the way. These appear on my list under the heading "Getting Everything Done and Staying Sane Too"…
Here's what I'll be aiming for, and the resources I'll be using to help me:
Getting up at 6.30am
I'm a morning person and have been all my life; I invariably have a more productive day when I'm awake (and well rested) early.
For this one, I'll be using Dave Navarro's Becoming an Early Riser (reviewed here). I've dipped into it before, and had some short-term success, but I didn't see it through consistently – my fault, not Dave's! I plan to post about how I get on using the program, and I'm hoping it'll see me sleeping more soundly and waking consistently early.
Taking Quiet Time
My retreat in November 2009 taught me how much better I feel when I pay attention to my spiritual needs. By "quiet time", I mean time when I read the Bible, read personal development literature (beyond blogs!), pray, meditate, sit silently, and see the truly big picture of life.
I've got some Bible reading notes, and a small book of prayers, which I'm keeping on my desk to remind me to take some quiet time before rushing into the day. I'm also making an effort to sit and eat meals without distractions, giving myself a chance to enjoy the food and to re-energise my mind along with my body.
Writing in my Journal
I've always found writing a comfortable medium, not just for communicating my thoughts to others, but also for the pleasure of creation (writing fiction) and for working through emotions or worries (by journaling). I find it hard to keep up a journal consistently, and a daily journal feels like too much at the moment, so I'll be aiming to write in my journal twice a week to begin with.
I'm tracking this goal, along with the above ones, on Joe's Goals.
Easy Tasks after 4pm
Early in my time working for myself, I found that my energy is consistently at a low between 4pm – 5pm. I find it hard to feel motivated or enthused at this time, and struggling on generally leads to sub-standard work and makes me miserable.
In order to push myself into doing something gentle at 4pm, I'm going to be catching up on the SpeakEasy calls (Naomi Dunford) that I've not listened to yet, and the More Buyers Mastermind ones (Dave Navarro and many awesome big names from around the blogosphere). If you're interested in More Buyers Mastermind, um, I've only listened to two calls so far so I suggest you check out Jade Craven's excellent More Buyers Mastermind review.
I'll also be using the early evening to do routine tasks like tidying and cleaning; otherwise, these can all too easily take over my productive time earlier in the day.
Blocking out Novel Weekends
Paul and I often fill our weekends with theatre or cinema trips, visits to family, church activities, or meals with friends. All of these are great in themselves – but I've found that having a free weekend once a month to do some enjoyable work (for me, that means fiction) and to have time to relax, helps to keep life on track.
My "novel weekend" for January is 22nd – 23rd; I've blocked out the days on the calendar, and I'm official "busy" if invited to do anything.

Staying On Track
I find that I easily get knocked off track, in big ways (committing to too much; letting goals slide for weeks or months) and on a small scale (Twittering when I should be writing; checking emails when I'm stuck).
So I'm tackling the issue of focus at different levels. On a big-picture scale, I'll be having a short weekly review each Sunday afternoon, where I look at what I accomplished the previous week and what I hope to accomplish during the next week. I'll be keeping up my practice of writing down key achievements at the end of each month.
At a daily level, I'll be checking off my mini-goals (like waking up early) on Joe's Goals, and, as I've been doing for months, keeping my to-do list and diary in [name's] The Journal.
And hour-by-hour, I'm simply trying to remain conscious of my ability to be distracted, and to put measures in place to help me focus, like listening to instrumental music while writing.
A few resources I'll be using along the way include:
Your Goals for 2010
I imagine you have goals for 2010. They might involve continuing on the path you're on – perhaps consolidating what you began last year – or they might be the start of a new direction.
Whatever your goals, set yourself up for success from the start. This is what's worked for me, and, judging by what I've read, for a lot of other folk:
Choose goals you're passionate about (Tim Brownson has just published a great post with a vivid example of this: Call That A Goal? THIS is a Goal!)
Give yourself specific targets. Deciding to "lose weight" or "save money" is too vague. How much weight? How much money? Same goes for words written on a book, or hours worked on a project.
Set deadlines. If possible, look for external ones; my novel schedule is partly determined by the submission deadline for a conference I want to attend.
Get accountable. The lovely Willie Hewes – who's celebrating the second birthday of her comic book publishing company, ITCH, is my butt-kicking partner, and we keep one another on track. I also have T, a friend at church who helps me stay grounded and focused. Can you find a friend (online or offline) to encourage you towards your goals?
Find sources of energy and inspiration. I love listening to Dave Navarro and Naomi Dunford's various audio products, because they're both people who get me enthused and excited about my own goals. Reading books like Career Renegade (reviewed here) and the 4 Hour Work-Week (reviewed here) have the same effect. What (or who) helps motivate you?
I wrote a series on goals a few months ago; if you missed it then (or if you need a refresher), you can find the posts at:
Best of luck with your goals! I'd love to hear about what ventures and adventures you've got planned for this year – just leave a comment below.