Hello!
You're reading one of the oldest posts on Alivenutures (you probably got here through a search engine).
These days, my blog is focused on the art, craft and business of writing. If you're not a writer and you're just looking for content on personal development, it may not be the place for you. (Sorry!)
If you are a writer or a would-be writer, a huge welcome to Aliventures! A great place to start is with my free mini-ebook Time to Write – you can find out more about that and a bunch of other handy resources here.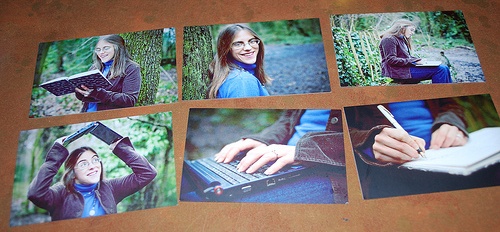 (My special limited-edition BlogWorld business cards!)
It seems like all my BlogWorld friends have been writing posts about BlogWorld over the past week and a bit. I'm late doing this – I blame jet lag, Naomi Dunford, and a cold.
For the happily uninitiated, BlogWorld Expo is an annual conference in Las Vegas, aimed, amazingly enough, at bloggers. Yes, it's pretty geeky, and yes, I fit right in. 🙂
(Trivia: The first internet meet-up I ever went to was with a bunch of online roleplay gamers. You don't get much geekier than that.)
As well as picking up a ton of great advice on blogging and writing, I had a fantastic time hanging out with wonderful people – I won't list them all here, but I'll be writing about some of them over the next few weeks and months.
I also learnt a few important lessons (not blogging-related ones – if you're looking for those, you want Seven Blogging and Writing Lessons from BlogWorld)
Lesson #1: Fly Direct
When I booked my flights, I decided to change at Philadelphia rather than fly direct to Vegas. This was for the pretty good reasons that:
I saved $200 (I'd recently read a great post by Pace, Saving $30 on dinner vs. saving $30 on a car)
Flying direct meant flying with BA. While I like them as an airline (free KitKats!) I was a bit worried they might strike (again) and that I'd not get to go to BlogWorld.
I also may have miscalculated my in-flight time a teensy bit because I forgot that Philadelphia is on the East Coast and that Vegas is on the West Coast, and that there's a three-hour time difference…
When I told the lovely travel expert Andy Hayes that I'd not flown direct, and that hmm, maybe this was a mistake, he agreed. (He didn't exactly look at me like I'm a total idiot, but only because he's too nice for that…)
Lesson Learned: If you're saving money, be sure it's a good saving. Ask someone who knows about this stuff if it's not your area.
Lesson #2: Always Look Both Ways
My first day in Vegas, I stumbled down the Strip from my hotel (Excalibur) to BlogWorld (Mandalay) clutching a coffee. I came to a road which had one lane then a traffic island, then two lanes.
There was only one lane before the island, so I knew cars would only come in one direction.
I looked right. Automatically.
Fortunately, there were some people on the traffic island. They were looking the other way from me.
Huh? I thought. Why're you looking THAT way? Cars can't come that way! Duh!
But I looked too. And stepped back hastily, and avoided getting squished before even making it to BlogWorld.
Oh yeah. Americans drive on the right. Whoops…
Lesson Learned: Sometimes you're the stupid one. If everyone else is looking left and you're looking right, double-check that you haven't made some mistake.
Lesson #3: Eat a Healthy Breakfast
Yeah, this is a bit pathetically basic, and it's something I've known for years – and which I stick to when I'm at home.
Travelling, though, often screws with my sensible eating plans. My first day, I wasn't hungry until mid-morning, then I went and grabbed a muffin between sessions, got to Chris Garrett's talk late, scrambled over some people to get to a chair, and proceeded to stuff my face.
(Sorry, Chris! Sorry, fellow attendees! It was for the best: I get very cranky when I'm hungry.)
My second day, I woke up at 6am, so I was hungry at breakfast time. Like, really hungry. And I went to a breakfast buffet with Thursday Bram and her husband, and Jade Craven, and there was looooads of food.
OM NOM NOM NOM! 😀
I was, unsurprisingly, kinda groggy for the rest of the morning.
After that, I did the sensible thing, and stuck to oatmeal for breakfast. And I felt a lot better for it: I had consistent energy, rather than swinging between hungry and stuffed.
Lesson Learned: Eat the oatmeal. It's tasty, filling and good for you. Don't worry, there'll be plenty more opportunities for muffins and doughnuts...
Lesson #4: It's Okay to Be Yourself. Really.
I know this one. The last couple of years have been good to me; I've got a bunch of fantastic friends online, and I've met some awesome fellow writers through my MA. I'm getting used to being myself – without worrying too much what other people will think.
I'm much more open in my style, too. When I started blogging, I mostly wrote for other people's blogs – and though I enjoyed it, there was rarely the chance to talk just as me. Here on Aliventures, I'm now comfortable doing that.
When I meet a lot of new people, though, I get anxious. I worry what they'll think of me. I worry whether I'll fit in, or whether I'll be left out on the sidelines.
BlogWorld reminded me that it really, truly is okay to just be myself, and that people will like me for who I am. I don't need to put on a front and be "straight-laced professional" or "wild socialiser". I can be Ali.
[Ali] is even more like herself in person than she is online. Even more British in person than online!
(I have a very British accent. ;-))
Lesson Learned: It's totally okay to be you. Doesn't matter if you're shy or geeky or have an off-beat sense of humour – you'll find people who love you because of all that, not in spite of it.
Lesson #5: Speaking Up is Scary but Never Fatal
I'm fine with small groups (up to 10-12 people), but I get shy in bigger ones. So it was tough for me to stand up and ask questions in sessions.
I made myself do it, because (a) I'm trying to get more comfortable with speaking to a roomful of people and (b) I had questions which I wanted answered! 🙂
The first time I did it, my knees were shaking. The second time, it was easier – even if I do look a bit dorky here: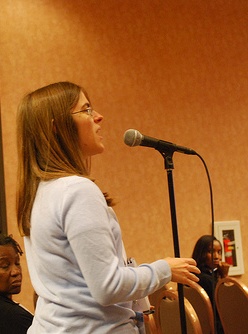 Lesson Learned: The first time you do anything new, it'll feel weird and scary. The second time, not so much. Keep going.
Lesson #6: Stay Connected to What You Love
After a couple of days of panels, hanging out in the corridors, eating meals with friends, marvelling at the lights-and-noise of Vegas, I felt like there was something missing.
Oh yeah. Writing.
It's rare that more than a day goes by without me writing anything. Most days, I write at least a couple of thousand words – blog posts, fiction, ebook content, all sorts.
So, when I was up early one morning, I decided to write a review of Engaging Ecourses, which I'd listened to on my loooong journey to BlogWorld.
Guess what? I felt a lot better for having written. More grounded, more connected, more peaceful. It was a good start to the day.
Lesson Learned: If you love what you do, a complete break for it might not be the best thing for you.
Lesson #7: Make Room for Spontaneity
If you talk to anyone from Goldsmiths about me, the word "organised" is likely to crop up. I was the one who arranged weekly get-togethers, who knew the essay deadlines and guidelines, and so on.
I like a fair degree of organisation in my life. I feel most able to relax when I know what's happening next. I had a print out of all the BlogWorld sessions that I wanted to go to, and I'd arranged a few different times to meet up with different folks.
But every so often, I'm reminded how good it is to have room for spontaneity, too. A few times, I skipped a session and bumped into great people in the corridor. I met a lot of great people who wouldn't've otherwise been on my radar And sometimes plans had to change (like on my last day, when Jade and I couldn't go to the Grand Canyon) – but I still had a great time.
Lesson Learned: Try scheduling spontaneity. (Seriously.) Leave space in your calendar for "whatever comes up". Take a nap. Hang out in Starbucks. Meet new folks – you'll probably like them.
Lesson #8: Life is Precious (Everything Else Can Be Fixed)
On the day after the conference, I was heading to the Grand Canyon with Jade. We'd been looking forward to this for weeks – and I'd booked the tickets in advance, phoned the company to arrange our pick up (at 6.15am K) and got everything sorted out.
We checked in, got on a big double-decker bus (much to Jade's delight!) and enjoyed the trip through Vegas, through Boulder City, past the Hoover Dam, and into Arizona.
Then the bus stopped, and the driver announced that there'd been an accident on the road up ahead – it was going to be closed for up to six hours. We had to turn back.
Of course we were disappointed not to have our trip. But what really mattered was the awful accident. A small coach had overturned on the road earlier that morning, leaving many people seriously injured – and two dead. (There's a news story about it here.)
They were going to the Grand Canyon too.
Jade and I can go next year; no big deal. I was sad that day for the families of those who'd died, and for the people who'd been injured. There was nothing that I could do, except offer up a silent prayer for them.
It would've been easy to sulk about our trip being cancelled. I'd told all my family about it; I'd been really excited about it – a helicopter into the Canyon, a boat trip on the Colorado.
But all of that seemed so unimportant. People had died.
(Yes, people die in accidents every day, all around the world. But this was close. They were travelling the exact same route as us – Vegas to the West Rim of the Canyon.)
I was reminded how precious life is – and how, ultimately, everything else can be fixed. Financial disasters, health scares, relationship breakdowns, all sorts of disappointments and upsets – we can get over all of those.
Lesson Learned: I'm alive. You're alive. Whatever goes wrong for you today or this week can be fixed. However tough things are, there's always, always hope.
(Photos in this post by Jade Craven and swiped without her permission, but she'll totally forgive me…)
Heads up! I've finally put an RSS icon on Aliventures, after realising that it was pretty hard to figure out how to subscribe in an RSS reader (like Google Reader). It's in the sidebar, but I've put it just below here too to make it super-easy to find. Click it now to grab the RSS feed:
If that sounds like total gibberish to you, and you'd like to get my next post straight to your inbox, just pop your email address in the box below: