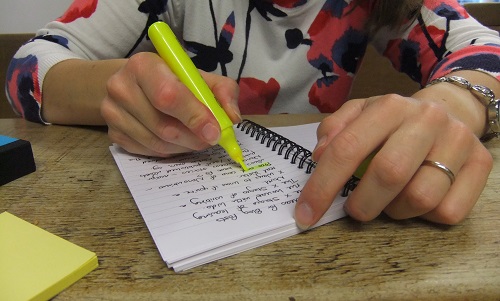 At some point in your writing life, you're going to be invited to workshop, beta read or even edit someone else's work.
Maybe your friend has written a novel, and wants feedback. Or you've joined a local writers' group and swapped short story manuscripts with another writer there. Or you're a blogger, and a fellow blogger asks for your help with an important guest post. Or you decide to take on some paid editing work to supplement your writing income.
Whatever the reason for offering feedback or editorial changes, you need to be able to give the author your comments in a way that's easy and efficient for both of you.
You could simply print their manuscript and write in red pen in the margins or between the double-spaced lines – this is how I used to critique a decade ago. But these days, you're likely to have a digital copy of their work … and there's a considerably better way to give feedback.
In Microsoft Word, you can insert "Comments" alongside the text – just like writing a note in the margin, but neater and easier.
You can also use "Track Changes" to make alterations to the text itself, without completely overwriting the original.
Note: Although I'll be giving instructions and example from Microsoft Word in this post, many other word processors have Track Changes and Comments functions – including Google Docs and Open Office's word processor.
Comments and Track Changes are used by professionals and publishing companies as well as by authors reviewing peers' work.
For instance, when I wrote Publishing E-Books For Dummies, I got the manuscript back from the editorial review process with comments added into the text in a special font, using Track Changes.
My freelance editor Lorna Fergusson also uses Comments and Track Changes to mark up manuscripts. Here's a bit of Oblivion at the editing stage: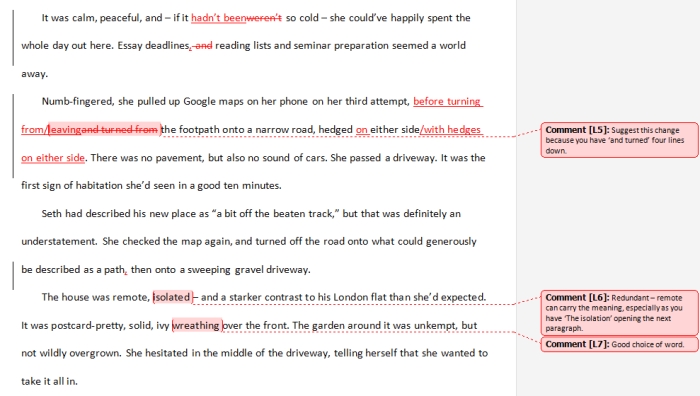 So, if you're likely to work with a publisher or a freelance editor in the future, it's worth getting to grips with Comments and Track Changes, as they may well use these to mark up your manuscript for you.
Continue reading »