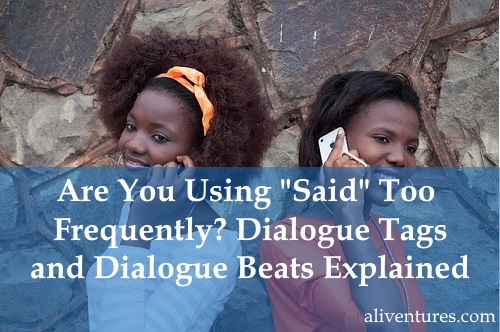 How often can you use the word "said" in one page?
Probably more than you think.
Yes, you've been told (by tutors, your writing group, or beta readers) to watch out for words that occur too frequently. But "said" isn't one you need to worry about.
The word "said" can crop up quite a lot and go almost unnoticed. As a reader, you barely notice it; as a writer, it's more obvious (since you write far more slowly than you can read, and you may be pausing to think through the dialogue as you craft it).
In fact, it's much more problematic to keep finding alternatives for "said" in an attempt to make things more interesting. These do draw attention to themselves. They also risk becoming a bit silly:
"Sophie!" he exclaimed.
"What is it, John?" she demanded.
"You look stunning today," he opined.
Of course, having "he said" or "she said" after every piece of dialogue will indeed start to grate on the reader. In this post, I'll be giving you some alternatives – and explaining how to use each effectively.
First, we need to define a couple of terms: dialogue tag and dialogue beat.
Continue reading »