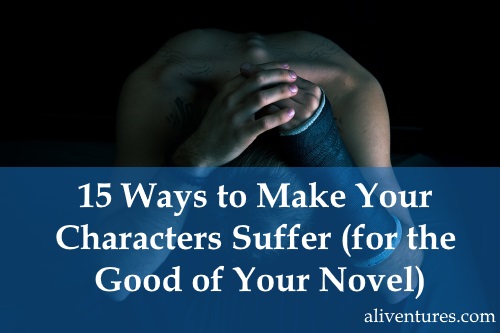 Note: This post was originally published in 2016, and was updated in June 2018.
Do your characters suffer enough?
Even if you're writing a light and fluffy romance, at some point, someone in your novel is going to need to get hurt.
I'm not suggesting all-out graphic torture here, obviously – unless that suits your genre. Suffering comes in a lot of different forms – and I'm going to go through a bunch of those in a moment.
In general, making characters suffer should do at least one, ideally both, of these:
Advance your plot: bad stuff may well need to happen in order for your heroes to get to (and earn) their happy ending. Often, some degree of suffering is what drives the plot: the protagonist is unhappy with their life as-is and wants to change things.
Deepen or reveal character: either we see who someone really is when they're hurt (someone who seemed a bit of a wimp turns out to have hidden strength; someone who was nice on the surface reveals a vindictive side) … or it's part of their character arc.
Any and all of your characters can get to suffer: heroes, villains, and those with walk-on parts. The main difference is in how the reader will respond.
Our natural reaction to seeing someone hurt or in pain is to feel sympathy towards them. If they're a particularly nasty character, though, we might well feel they're getting their just deserts. The more awful they are, the less likely we are to feel sorry for them – even if their suffering is pretty extreme (think Ramsay in Game of Thrones, for instance).
If a minor character suffers, the importance of this may well be how the hero (or villain) responds: do they help? Are they distressed? Amused? Indifferent? Introducing someone who's in some kind of pain can also be a good way to instantly get the reader's sympathy.
Continue reading »