Blog On is currently open for registration: the first module begins on Monday 28th May. Registration closes at the end of this Thursday (24th May), so if you're interested, do check it out as soon as you can!
Blog On (Spring 2018) – get all the details here
---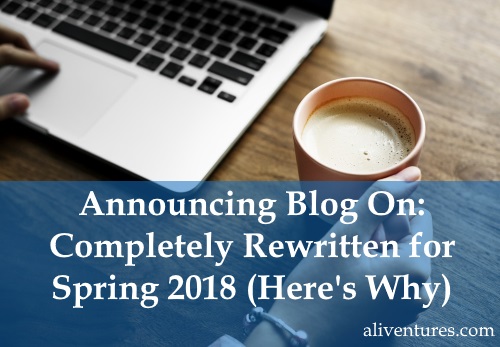 One of the reasons I closed Writers' Huddle at the end of April was so that I could run more online courses – and Blog On has been the most frequently requested one.
In fact, when I ran a survey recently, it was the most popular option for "which course shall I run next?" … narrowly beating Launch Your Freelancing Career, as you can see here: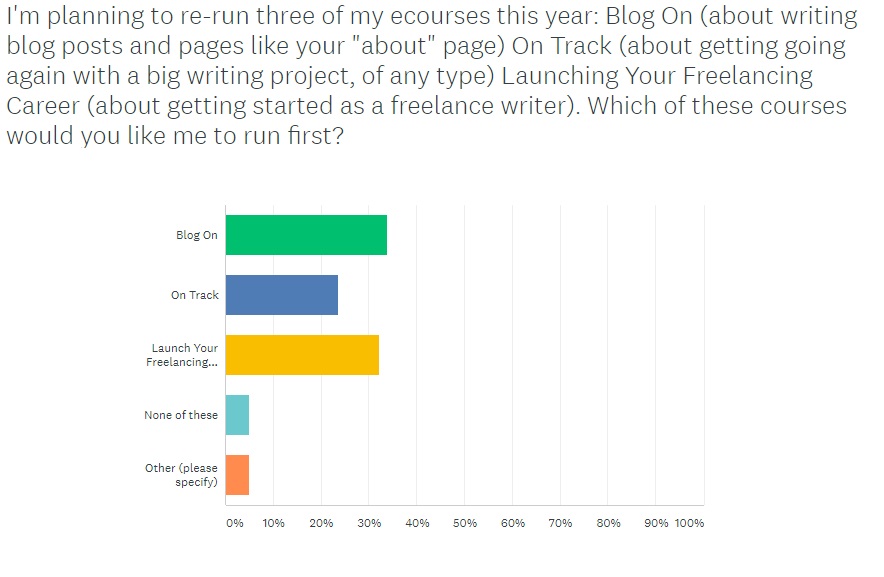 I first ran Blog On way back in 2011 (which feels like a lifetime ago now I have a five year old and a three year old…) and I've run it several time since, updating it each time.
For 2018, though, I wanted to overhaul the whole course completely.
Last time we ran through Blog On, I had some great feedback from members who were enjoying the course but who felt that their blogs didn't quite "fit" with the materials and assignments. They were blogging as a hobby, for writing practice, or to grow a platform for their fiction … and I'd originally designed Blog On with money-making bloggers in mind.
This time round, I've recreated Blog On from the ground up – ditching some modules completely and rewriting others pretty much from scratch.
I've aimed to keep all the things that Blog On members have enjoyed over the years, with step by step guidance on how to craft posts and pages for your blog … but I've also broadened out the remit of the course so that all bloggers can enjoy it.
While I might well raise the price for future iterations of the course, I've also kept the current price to just $39.99 (less than $5/week).
Whatever sort of blogging you do (or hope to do!), Blog On could be just what you need to get moving again.
Continue reading »